Ally: We've been super fortunate to be a part of the Downtown Halifax Business Commission's "Big Day Downtown" since it's inception. Need proof?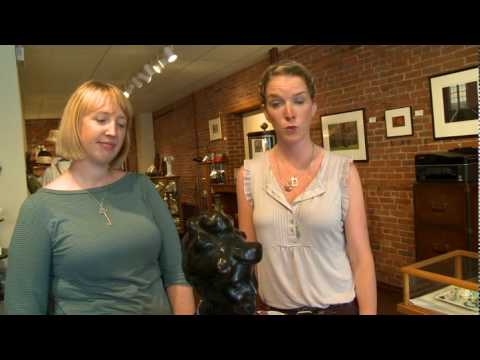 I never get tired of watching that video. Oh, how I've aged.
This year's twist was that readers had to pick where we would spend our $150 gift card. We love our readers, and for the most part, they really know us. However one dear soul suggested that we should partake in craft beer drinking…
Source
I'm ignoring all suggestions of craft beer, because, please. No. It will be wine or the hard stuff. – L-a Steelworthy, Big Day Downtown email planning session, August, 2014
Since the two of us hadn't gotten together in a while, we were hoping for a suggestion of dinner, and bonus points a suggestion for Sushi. We got it! Corinne, a lovely reader, suggested we hit up Dharma Sushi, which is hands-down my favourite sushi spot in Halifax.
Eats.
Ally: Sadly, Dharma Sushi was closed for a private party. Who books an entire restaurant? Selfish jerks. That's who. We were now totally in the mood for sushi, so we figured we wouldn't be docked if we chose another sushi place downtown. We walked down to Sushi Shige on Granville, where they serve up the best spicy tuna sushi my face has ever met.
It was so good that I emailed this photo to my husband before I started eating. One of the best parts of leaving the suburbs is sending photo evidence of THE VERY GOOD TIME YOU ARE HAVING to your spouse who is stuck at home folding laundry and putting the kids to bed.
The tuna literally melts in your mouth. It's ridiculous. I feel as though this place is a little known gem in the downtown core. It's got a nice vibe, a hole in the wall ambience where you feel like your gossip won't be heard by others. Except it kind of was, especially after L-A brought out the F-bomb army during drink #2.
It's at this point that I should mention we had to move tables because the delightful server told us our "wine wouldn't fit" on the table for two.
L-A: While I'm always open to trying new things (honestly. And there were some very good downtown dinner suggestions thrown our way), if you say sushi, I say "get it in my face now". As you know, I'm now part-time in Halifax, which means I'm rarely getting my fill of tasty sushi (KDubs has it's charms and it's schnitzel, but it has thus far failed me on the sushi front). The Shige sushi pizza is my favourite. Pair it with a half litre of house wine and bam! Party in my tummy.
I also had delicious avocado rolls and miso soup, but the sushi pizza is where it's at. This place is totally blink and you'll miss it (seriously. Ally wasn't kidding about hole in the wall. It's a door. In a giant wall. Blink and you'll miss it and you'll be sad).
Slightly Drunk Shopping.
Ally: After you've had a few glasses of wine, you want to go where everybody knows your name. Biscuit General Store is my fave place to shop in all of Halifax, not just downtown. So, when someone who I swear I did not pay off recommended that we spend some coin there, I was all…
Let me tell you, shopping aftera few drinks is totally liberating, although it brings a few risks. I plucked a pair of plaid pants from the rack and turned to L-A saying, "Tell me not to try these on." L-A, was all, "YOU NEED TO TRY THOSE ON."In retrospect, had L-A been sober, I'm not entirely sure she would have had that response.
The result? Yay for drink-ies! Also, the shirt is from Free People. Y'all know how much I love Free People.
These pants, from See you Monday Los Angeles, were purchased.
We also hit up the shoe section at Biscuit. I feel as though the shoe section at Biscuit doesn't get the love it deserves. I needed to pair these pants with a great shoe.
I know what you're thinking:
1. Did she seriously pick out electric blue booties to go with a pair of plaid pants?
2. Did she seriously wear a sequin skirt to her client's office on a Thursday?
Yes, yes I did. To both.
L-A also had some luck in the shoe department. Let it be known that L-A and I will never have our friendship end due to a fight over men or shoes.
They are actually super cute, and would look amazing with skinny jeans. L-A can pull that shit off. What's that you ask? She didn't buy any stripes?
Of course she did. I'm not sure how this shirt differs from the one she walked in with, but she assures me they are unique.
I had a gift certificate for Biscuit that my mom had given me for my birthday, so I donated my portion of the shopping funds on our Big Day Downtown card to L-A. This meant we still had a bit of money to spend so we turned our attention to a nightcap.
L-A: That picture doesn't do the top or me justice. I'm actually surprised I've let it see the light of day. It's bad because (a) Tyra would totally yell at me for my lousy modelling skills (seriously. I can't pose for shit), (b) my mom would probably tell me to stand up straight, and, (c) let's be real, because you try taking a good change room photo after wine and sushi. So, here's a better view of it:
Not only is it 75% different from all my other striped tops since I typically opt for a more fitted, classical boat neck style, but it was also Bonanza by Biscuit General Store.
I've never owned a striped top by a local designer, so totally different than everything else. It looks way better when I pair it with jeans and a jacket. Trust.
Also, I almost didn't buy the shoes. I was all, "I don't know. Maybe." because I'm awful at making decisions (and I was eyeing some cute jewellery). So I can thank Ally that I now have these beauts to wear on a work trip tomorrow.
I have the last size 10, so my apologies to the other big footed ladies of Halifax – there are no more of these cute shoes for you.
The staff at Biscuit were delightfully nice about our drunk shopping at about 15 minutes before closing.
Moar Drinks.
Ally: It was a beautiful night, one of the last patio nights of summer, so we thought The Carleton would be a great choice. At this point in the evening, I can only recall that I ordered "Chardonnay" and "the big size".
Those glasses were pretty much filled to the top when we started. It was a great end to a perfect night catching up with one of my best friends. There were a few other couples on the patio, and a live band could be heard from inside. It was quintessential Halifax.
L-A: Did someone suggest The Carleton? It's possible. I know I did. But at that point in the evening, we forgot to check in on reader suggestions. And since it was actually my 10th wedding anniversary (also spent in downtown Halifax at the Halifax Club. And the Best Lady went shopping downtown in between the ceremony and the reception), I win.
But seriously, it's hard to think of a better way to end an evening of dinner, drinks and shopping with one of your oldest friends (who was at my wedding. Her gift included a copy of US Magazine) than on a patio on Argyle street.
Other than spending the evening with my husband (who I left in KDubs for the week), a Big Day Downtown is a pretty swell way to spend your anniversary.
Ally: I've missed this blog so much, but life got really real this year, and writing for fun had to take a backseat for a while.
That said, I'm really excited that we are broadening our horizons for this site beyond just fashion. As much as we love fashion (and we really do!), as we move into the wrong side of 35, our interests have expanded and I think we have more to offer. I think we're also learning more about ourselves, our passions and what drives us each day.
Without going into personal details (friend me on Facebook for that!), our family had a bit of a plot twist this year that set us in a new direction. It's an exciting new path, with lots of opportunities, but it took me a while to see it that way. This new path also comes with greater responsibility and a bit more stress – which, combined with regular life stuff and a busy workload – I'd like to manage better.
Which is why discovering running has been a really great thing for me.
I always enjoyed getting out for an hour "power walk" each day (I just said "power walk"!), but one day recently, I just started running. And it was ok. In fact, it was this weird breakthrough where I ran and when I stopped there were tears streaming down my face. I just felt like maybe this is what I needed. This could be my little escape. The piece of the day that I carve out just for me, where I'm alone and I can block out everything with some exquisite shitty music.
Speaking of.
It's so deliciously awful!
I also got some great advice on making sure to have my sneakers fitted for me. I saw Barry at the Running Room in Bedford and he hooked me up with these fine kicks.
I've even entered my first race on October 4th! Terrifying!
So there you have it. My first completely inspirational lifestyle post. Not GOOP, but super close.
L-A: When it comes to getting my nails did, I'm the laziest. I used to be pretty good at maintaining my polish during the work week, but now that I'm working from home, I'm pretty sure more than one cashier at the grocery story has judged me for leaving the house with severely chipped polish. I also leave doing my polish to the last minute – like in the cab on the way to get my train to work or in the car on the way to brunch. I also frequently do my nails before bed, which leaves me with an interesting "textured" look from my sheets. Like I said, I'm the laziest (and too cheap to go get them did).
I'm trying a little harder (because I do leave the house more often), but I'm still pretty lazy/laissez-faire about it all. Which is why it's taken me over a month to review the summeriest of summer polishes: OPI Neons.
Highlight Reel Review:
Polish Verdict: Like it an awful lot. I still wear the purple on the regular.
Finish: Matte. I totally need a top-coat
Number of Coats: 3 to get the look I like.
Where to get it: We got it from Obsessed Look
(*full disclosure: free for review and I totally got it before Ally could reply. I'd buy it though). 
French Figure Skating Judge Score: 8 (bribes not required)
Full Review: 
As someone who celebrated her pre-teen and early teen years around 1989-1991, neon is both nostalgic summer staple and something I'm terrified of (because just think about what you wore back then and try not to shudder. But let's take a moment to pour one on the ground for Bop). However, I totally dug these adorable mini-bottles of neons, especially the purple, pink and coral.
I personally have issues with green and yellow polishes. I like the idea of them and I like them on other people, but I can rarely wear them. I always feel like my nails are turning green and going to fall off. Especially pedicures. Not that this has ever been a problem in my life (knock on wood), it's just an irrational thing I have about green and yellow polishes. So I really didn't give them a proper go (although 1989 me is really disappointed that I didn't pair that green and pink together. 1989 L-A loved that colour combo).
The purple quickly became a lazy manicure staple. It needed about three coats to get to the thickness that I like for my polish (I tend to go for big, bold nail colours like I'm a teen girl on PLL).
Of note, the polish dries with a matte finish. I think you can see this on the middle finger in the above photo. If matte finish is your jam, then polish and go forth! I didn't dig it, so I went for top-coat. I like the shine. I also like that top-coat gives me extra days between manicures.
I did attempt nail art. Which was basically a giant fail.
Pro-tip: if you barely have the patience to do a straight up polish, then you should skip the nail art. This did not stop me from leaving it like that for the week. I liked the colours together, but am not meant for nail art.
The coral was a rad colour for a pedicure and looked nice with my bright green flops (which leads me to believe if I had the patience for nail art, I could do green and coral together). (Also, be prepared for a photo of my feet. Don't scroll down if you don't like pictures of feet).
If I'm not completely lazy this summer/fall, I might try doing more reviews. But since this is my usual look, we'll see:
Decent Pop Video of the Week

Archives

Categories

Like Box