Ally: If you read this blog you'll know that I'm a fan of Fefe Dobson's music (ok, full disclosure, I'm a bigger fan of her fiance Yelawolf, but I think Fefe might be our best Canadian pop vocalist. Sunday Love was digitally released last year, grab it, it's a life changer).
This is why I was so disappointed to see that the video for Legacy (an incredible song) was basically a low budget remake of the movie Girl Interrupted, mocking those seeking treatment for mental illness. The sad thing is, the whole "inspired by legends" concept was fantastic. No idea why Fefe had to set it in a rehabilitation centre further cementing an already huge stigma faced by those suffering from mental illness.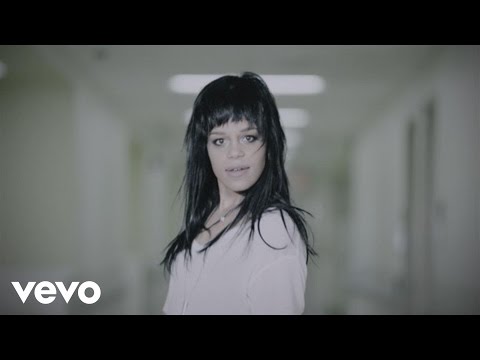 The part at the end where the patients are all bobbing their heads uncontrollably with zombie eyes is particularly grating. Seriously, this is bullshit coming from an artist who was on the "Artists Against Bullying" remake of True Colours this past spring.
The True Colours song was inspired in part by the increase in teen suicides as a result of bullying. Here's the thing though, research shows us that suicide is not as directly linked to bullying as it is to an underlying mental illness.
I don't think this video would have irritated me so much if she hadn't been part of the True Colours remake. You can argue that you're an artist and are entitled to free expression, which is completely true…however when you make a decision to take part in a partnership with other artists to put an end to bullying, you're asking for your future work to be analyzed under that lens. This means that questions will naturally arise as to whether you took part in Artists Against Bullying as a publicity ploy and not an actual desire to make a change.
Fefe is an incredible creative talent, which is why, as a fan, this disturbed me so much.
Ally: I haven't blogged for a while, and for that I apologize. I can only imagine how difficult your lives have been without me. Would it help to know the majority of the time I've been away was spent plotting my new hair do?
Favourite #1: New Hairs!
Voila! An artsy shot to best showcase my fabulous new hair care of Esther at Genesis Hair Salon in Scotia Square. True story: Black and white photos help hide the circles under your eyes. Sad story: Why can no one sleep right in my house?
It's taking me a bit of time to figure out how to make my hair look kick-ass on my own, but I figure that's an acceptable learning curve the first couple of weeks post drastic hair cut. I really love the freedom of short hair, and the fact that I don't have a stupid top knot on top of my head 24/7.
Favourite #2: Even Supermodels have bad days…which their publicists promote…
We get a lot of strange media releases in our inbox. While this wasn't the most offensive, it did require a serious head tilt.
"Alessandra Ambrosio's Monochromatic Must-Haves" read the subject of this email…
I'm so embarrassed for her. Was this planned? This couldn't have been planned. She could not have agreed to this. Obviously, this inbox alert required immediate communication to L-a.
Ally: Not even supermodels can pull this off.

L-A: Truth. Her crotch is screaming to be covered up and her ugg feet look sad.
Favourite #3: Katy Perry Everything

Katy Perry is doing a lot of things right these days. You don't have to like pop music to admire the way she (and her team) handles her career. She's consistent, forthright, and doesn't deviate from what works for her. Her focus makes me think of recent tweets from Maroon 5′s Adam Levine. Some of you may think that Adam Levine is a massive D-bag, I sometimes think he's ridiculously hot. No matter. Recently Levine sub-tweeted Lady Gaga (which is hilarious) the following:
OK, so…there's some problems with his theory, but I agree with the premise that if you're goal is to be a mainstream artist, then you should take into consideration what your fans are seeking. If you want to make shitty music, go on with your bad self in your parents basement, just don't cry foul when it doesn't hit number one on iTunes. And please, don't tell me that Lady Gaga doesn't want to be number one on iTunes. She does.
Lady Gaga responded to this with, "uh oh guys the art police is here", to which Adam countered with…
I mean, give the kid credit for knowing his strengths.
All this to say, in my humble opinion, Gaga's Applause was a horrific example of too much self-love. Sorry, it really sucked. On the other hand, I think Katy is balancing her personal artistic evolution, while also taking into account the desires of her fan base. Which is why she's winning at everything, an in particular, winning at magazine covers.
Source
Favourite #4: Breaking Bad (Four years too late)
My husband and I do this often. Get into a show well after it's popular. Trend setters we're not. This is the case with Breaking Bad, which we are watching religiously every night after putting the kids to bed. We may have accidentally tricked our four year old into going to bed 45 minutes early the other night so we could pack in two episodes. Obsessed.
Addictive Pop Song of the Week
I'm still not over this song. I'm not sure I'll ever be over this song. As much as Lady Gaga's pretentiousness brings the eye rolls, I'm adoring her collab with R. Kelly (R.KELLY, YOU GUYS!). There's no video yet, but here's the audio.
More of this, Lady Gaga. More of this.
 L-A: I also have new hairs! Well, same hair style, but it's infinitely less broken hair. A recent visit home meant a visit to Krista at Fred and my hair is all blonde and wonderful looking again and free of hard water buildup (story for another day). But no selfie for you! Ally got a texted selfie, which is very rare.
So, just one favourite from me this week:
Truthtime: I have yet to watch Girls. I watched the pilot and was like, okay, fine. Cake in tubs, questionable fashion and a dude who is not easy on the eyes and doesn't care to wear a shirt. But I never write a show off after the pilot. I have a three episode rule for my TV (except for you Sleepy Hollow. You were just dumb on a stick) and Girls was put on the list of shows I'd get around to when I could obtain the first season. And I have obtained it, but I haven't watched it. Mostly because I'm afraid I won't get it and I won't love it and then I'll have to explain myself. And with Girls, I feel like I need to explain myself because you have no idea how many people have told me I will love it and I need to watch it. No. Really. This happens a lot. No one tells me to watch Scandal (thanks, friends! Because that's not happening) or Low Winter Sun (ahahahaha. That's because no one is watching it), but literally a dozen different people have told me I need to watch Girls. This is pressure.
Anyway. In spite of all of those feelings, I watched Dunhaming more times than I've actually watched Girls and its making me want to watch Girls so I actually get all of the jokes.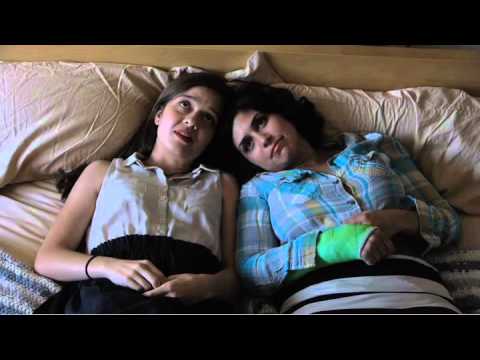 But you don't have to take my word for it. Lots of people on Funny or Die think it's good too. (Bias moment: I totally know Amanda the writer/director/star, so if you want to go vote for it on Funny or Die, that'd be cool. Because it would make me cool by association).
Okay, that's it for me. Lame week for me in KDubs because I was trying to get my act together after whirlwind weekend in Halifax for the wedding of two of my favourite humans, Jill and Rob.
L-A: Sometimes I get why fashion is so effing expensive. A crystal embellished lace dress by Dolce & Gabbana for $11,000? Sure it's steep and almost as much as my new-to-me car, but shit takes a lot of time and skilled work. I mean, the details include "20% glass". That's a pretty big percentage of your dress to be make of something breakable. So okay, $11k. Fine. Whatever. But then I see this in my inbox from Net-A-Porter and I damn near do a spit take on my computer:
Oh sure, it's "crafted from soft suede with red and black embroidery" and that "this leather-trimmed design features a detachable shoulder strap for versatility". And I totally get that it would "put a playful spin on fall outfits", but seriously. ARE YOU KIDDING ME??
No really. We're serious? And we're calling it limited edition and charging $595 for it? You do realize that's $5 less than $600? For a suede pumpkin?
Because while I understand that the "95″ or "99″ at the end of the price makes it seem less psychologically, is someone really going to balk and say, "whoa! whoa! hold up! $600 is just too much for a purse I can only use for one Halloween party, because god help me if I'm seen with the same pumpkin clutch two years in a row. If only this were five dollars less, I'd totally purchase it."
And some poor model had to keep a straight face for this:
Well done, kid. But now that we've seen it in situ with a Miu Miu top and Chloé bracelet, it makes all the difference now, doesn't it? I can just see this being the hit of the fancy club party that Muffy VanWinkleburn-Jones attends. All the ladies will be like, "why Muffs! That's is the most charming clutch! Wherever did you get it?" And Muffy will smile and tell them it's limited edition and "just not available anymore, darlings." And then next year she'll give it to the housekeeper, who will look at it and say, "what in the name of god is this bullshit?" before giving it to her five year old to take trick-or-treating. I assume this is the circle of life for ridiculous purses.
For those of you who just can't swing $595 this Halloween, I've got you covered. Here's a little DIY solution:
You can either pick up everything you need from Michael's, including the hot glue gun, or you can shell out for some suede if you know how to sew. Or if you're not crafty, buy the one from Net-A-Porter. Your call. No matter what you choose, you'll be the envy of every five year old girl.
Crappy Pop Video of the Week

December 2013
M
T
W
T
F
S
S
« Nov
1
2
3
4
5
6
7
8
9
10
11
12
13
14
15
16
17
18
19
20
21
22
23
24
25
26
27
28
29
30
31

Archives

Categories

Like Box

Error: Twitter did not respond. Please wait a few minutes and refresh this page.